a new book written by jacki Thomas.
About the Book
In today's complex society, we are bombarded with messages and instructions about 'beliefs', 'self-help' models, social media influences, fashion, all of which compete for our attention. As Christians we are charged with 'being salt' but what does that mean in today's world? This book provides practical advice and exercises, ending each chapter with discussion points and challenges, to help individuals or groups to address this fundamental issue.
About the Author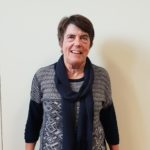 Jacki Thomas lives in Windsor, Berkshire in the south of England. After graduating she worked in market research. Marriage and a growing family interrupted her career and she trained as a layminister in the Church of England, being licenced in 1991. Many years in Hospital Chaplaincy, fourteen years as a Hospice Chaplain, twenty-five years as a Spiritual Director plus an MTh and a doctorate which researched Spirituality from the Hospice chaplain's perspective have given her a wealth of experience from which to choose stories to illustrate this book. Some stories will shock, some amuse and some are simply poignant. Her hope is to provide a simple resource to help Christians to improve their saltiness in today's world. Jacki is a Licenced Minister at this church, All Saints Church Dedworth Windsor.
Copies of this book can be purchased directly from the Author via email saltinsecular@btinternet.com Price £4.95.
Electronic copies are available.