All Saints Church Dedworth Community Meal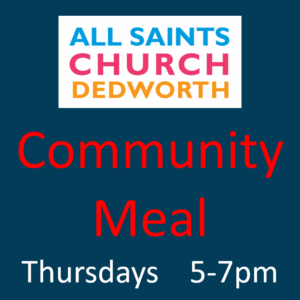 Come along to ASD between 5 and 7pm on Thursday's for a hot meal and some time together in community. The meals are open to all, so please bring a friend or tell a neighbour.
Other Local Warm Spaces…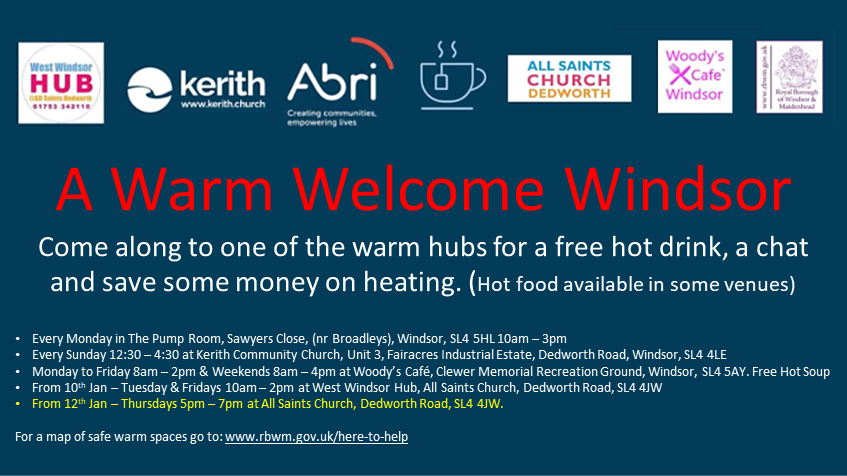 Come along to one of the other local warm hubs for a free hot drink, a chat and same some money on heating. Hot food available in some venues.
Every Monday in The Pump Room, Sawyers Close, (nr Broadleys), Windsor, SL4 5HL 10am – 3pm
Every Sunday 12:30 – 4:30 at Kerith Community Church, Unit 3, Fairacres Industrial Estate, Dedworth Road, Windsor, SL4 4LE
Monday to Friday 8am – 2pm & Weekends 8am – 4pm at Woody's Café, Clewer Memorial Recreation Ground, Windsor, SL4 5AY. Free Hot Soup
From 10th Jan – Tuesday & Fridays 10am – 2pm at West Windsor Hub, All Saints Church, Dedworth Road, SL4 4JW
For a map of safe warm spaces go to: www.rbwm.gov.uk/here-to-help