Thank you
Thank you so much for your generosity in donating to the Church which helps us in our mission to make Jesus known in Dedworth. While each of us today is challenged— both in managing our time and finances—we're so thankful to God for his provision.
All Saints is again facing a deficit this year, with expenditure forecast to exceed our income —largely as a result of an increased parish share, ministry and energy costs and our desire to welcome an Assistant Curate to Dedworth.
There is so much more we would like to do! With a thriving and growing Church we'd love to employ a Children's and Families worker to help support the many needs they have. We are also seeking to move towards giving 10% of our income to mission and outreach to support both local, UK and world-wide mission, demonstrating further trust in the Lord to provide.
Your donations help us to do all the amazing work that is already going on so once again, thank you for your continued support.
Giving for life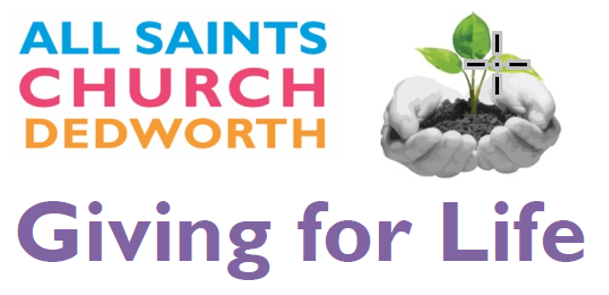 Thank you so much for your generosity as you give both in time and resources to making Jesus known in Dedworth, the surrounding areas and various communities you serve. While each of us today is challenged— both in managing our time and finances—we're so thankful to God for his provision. I'm also giving thanks to God for you, and for the opportunities the Lord has given us to make Jesus known and grow in faith together.
This year we have another opportunity to share the hope we have in Jesus with others, through our Giving for Life campaign. We know the Lord will bless us, as we step out in faith.

Rev Paul Walker – May 2023
Click here to visit our Giving for life page.
Gift Aid
If you are a tax payer then your donations should be Gift Aided so that we can claim an extra 25% from the Tax Man. If you have not completed a Gift Aid form at All Saints Dedworth in the past, then can you please download this form, [PDF Gift Form] and email your completed form to Treasurer@allsaintschurchdedworth.com
We now have a card reader and can take one off contactless payments at our services. Contactless payments can now also be taken in the cafe which is proving to be really useful as many of us don't carry cash these days.
How can I give:
1: Parish Giving Scheme
Our preferred method for regular giving to the church is to use the Parish Giving Scheme.
The Parish Giving Scheme (PGS) is a secure and simple way of giving to Dedworth All Saints on a regular monthly basis (or quarterly or annually if you prefer). It works by making a Direct Debit from your bank account on the 1st of the month, which is credited to our parish bank account by the 10th of the month. If eligible, you can opt to add Gift Aid and PGS claims this on our behalf, passing it back to Dedworth All Saints which benefits our cash flow.
Three ways you can set up a regular gift with PGS:
• The simplest way is online. Visit https://www.parishgiving.org.uk/home/
• By phone: 0333 002 1271, Monday to Friday 9.00am-5.00pm
• Alternatively you can download an [All Saints Dedworth PGS form], print it out, fill in your details and post it to PGS in Gloucester.
Further details are on the church website – https://allsaintschurchdedworth.com/about-all-saints/parish-giving-scheme/
2: One off online donation
We have two methods to give a one off online donation – both of which are simple, fast and totally secure. Your details are safe and they will never send unwanted emails. If you are a tax payer then please tick the Gift Aid box and give your details. Gift Aid will automatically be collected and raises your donation by 25%.. Your money will be sent directly to the All Saints Dedworth bank account saving time and cutting costs for the church.
| | |
| --- | --- |
| Our preferred method for one-off donations is via our "Give a little" online charity donation page. Click HERE to visit this page or click the logo | |
3: Bank Transfer
Alternatively, you can make a transfer from your bank account. This could be a one-off or regular monthly payment.
Our Bank Details are:
Metro Bank
A/c name = All Saints Dedworth.
Sort code = 23-05-80
Account number = 34016674
Please email the treasurer if you want to Gift Aid your donation. Download this form, [PDF Gift Form] and email your completed form to treasurer@allsaintschurchdedworth.com
Finally…
If you have any questions about our Church Finance or how to work these donation methods then please call me.
Stay safe, keep healthy. God Bless.
Paul Watkins, Treasurer All Saints,
Email: treasurer@allsaintschurchdedworth.com