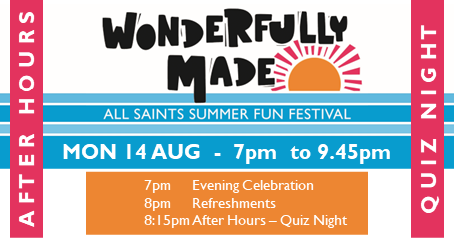 Wonderfully Made – AFTER HOURS Quiz Night
We continue the "Wonderfully Made" programme with three "AFTER HOURS" events for all the community on Monday, Wednesday & Friday Evenings.
Monday 14th August
7pm – 8pm Evening Celebration
8pm – 8:15pm Refreshments
8:15pm – 9.45pm After Hours – Quiz Night
Please do come along and invite your friends. All are welcome.
Other events this week are:
Wed 16th – UV Light Party (Year 6 – Year 11) Please book in advance during the festival
Fri 18th – "Dedworths Got Talent" – Sign up during the week if you wish to perform.
Visit our website for updates: https://allsaintschurchdedworth.com/wonderfullymade
Wonderfully Made – AFTER HOURS Quiz Night