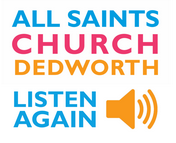 Sermon 17th Sept 2023 11am gathering
We have recorded our talk in case you missed it or want to listen again.
Here is the OOS together with our bible reading. Please do get in touch with us if you need prayer for anything at all.
Family Gathering for Worship 11am 17th Sept 2023
11am Call to worship songs:
- Song: Hosanna Praise is rising
- Song: fruit of the spirit
Welcome/notices/Prayer
All age slot:
- Fruits of the spirit activity
PRAYER: Flares.- up to and including Year 4 – up to 9 - to groups
Songs:
- Cornerstone
- Everlasting God
- When the music fades
Flames to group
Reading Galatians 5: 1, 13-26. NRSVA
Talk
Ministry time
Songs:
-Faithful one, so unchanging
-How deep the fathers love for us
Prayers/ministry
Blessing
Galatians 5: 1, 13-26. NRSVA
1For freedom Christ has set us free. Stand firm, therefore, and do not submit again to a yoke of slavery.
13 For you were called to freedom, brothers and sisters;[c] only do not use your freedom as an opportunity for self-indulgence,[d] but through love become slaves to one another. 14 For the whole law is summed up in a single commandment, 'You shall love your neighbour as yourself.' 15 If, however, you bite and devour one another, take care that you are not consumed by one another.
16 Live by the Spirit, I say, and do not gratify the desires of the flesh. 17 For what the flesh desires is opposed to the Spirit, and what the Spirit desires is opposed to the flesh; for these are opposed to each other, to prevent you from doing what you want. 18 But if you are led by the Spirit, you are not subject to the law. 19 Now the works of the flesh are obvious: fornication, impurity, licentiousness, 20 idolatry, sorcery, enmities, strife, jealousy, anger, quarrels, dissensions, factions, 21 envy,[e] drunkenness, carousing, and things like these. I am warning you, as I warned you before: those who do such things will not inherit the kingdom of God.
22 By contrast, the fruit of the Spirit is love, joy, peace, patience, kindness, generosity, faithfulness, 23 gentleness, and self-control. There is no law against such things. 24 And those who belong to Christ Jesus have crucified the flesh with its passions and desires. 25 If we live by the Spirit, let us also be guided by the Spirit. 26 Let us not become conceited, competing against one another, envying one another.