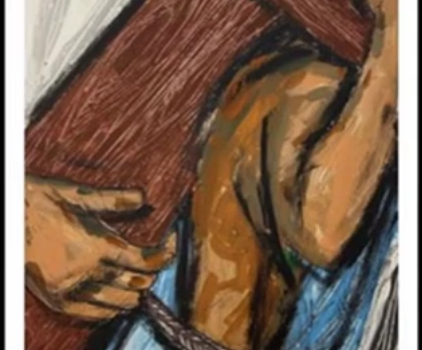 As we accompany Jesus on His journey to Calvary, you are invited to take a moment out of your day to reflect on how difficult that journey was. Jesus carried his cross through the narrow crowded streets of Jerusalem. It was Passover time and so the city was full of people, many of whom mocked, jostled, and took pleasure in watching as Jesus struggled with his heavy burden. The way was often steep.
The journey that Jesus made on that day remains a symbol of Christianity in the world, as it struggles with its own crosses and failures, and the challenges of modern life. The streets of our town are filled with people who carry their personal crosses, who are bruised, battered and broken.
Through these Stations of the Cross, Jesus is inviting us to journey with him and to reflect on his suffering as it continues in the lives of his people. In solidarity with all who suffer, let us pray that we will be open to whatever he wants us to see, hear and understand.
As you travel around the Windsor, Clewer and Dedworth, you will see the Stations posted outside all our Churches Together in Windsor, serving as a witness to the world that it is Lent and that we journey together through Holy Week towards Easter.
The words to the reflections come from Sr. Anne Holton RSM, written for the Jubilee Year.
The sung response given at the end of each Station is taken from the spiritual song 'Were You There'.
Churches Together in Windsor Route
At each Station there is a short Reflection and Prayer
Station 1: Jesus is condemned to die
St Andrews, Mill Lane
Station 2: Jesus takes up his cross
St Stephens with St Agnes, Vansittart Rd
Station 3: Jesus falls for the first time
Windsor Methodist Church, Alma Rd
Station 4: Jesus meets his Mother
St Edward's, Alma Rd
Station 5: Simon helps Jesus
Holy Trinity, Trinity Place
Station 6: Veronica wipes the face of Jesus
St John The Baptist, The High Street
Station 7: Jesus falls for the second time
URC, William St
Station 8: Jesus meets the women of Jerusalem
Windsor Baptist Church, Victoria Street
Station 9: Jesus falls for a third time
All Saints, Francis Rd
Station 10: Jesus is stripped of his clothing
St Agnes, St Leonard's Rd
Station 11: Jesus is nailed to the cross
All Saints, Dedworth Rd
Station 12: Jesus dies on the cross
St Mark's, Dedworth Rd
Station 13: Jesus is taken down from the cross
Kerith Community Church, Dedworth Rd
Station 14: Jesus is laid in the tomb
Dedworth Baptist Church, Smiths Lane
Stations of the Cross Video – Churches together in Windsor