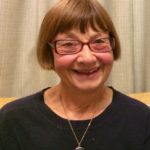 Parish Safeguarding Officer, PCC Member
Jackie has been involved in many church initiatives during her 25 years at All Saints. With her husband, John, she has  run All Saints' Film Night once a month for some years. She is part of the Pastoral Team. and currently our Parish Safeguarding Officer. Her work promoting safeguarding in church has been commended by the Deanery. During the period of Covid lockdowns and social isolation, she has demonstrated her faith and commitment to the community by editing our church's newsletter and by  becoming a trustee of the West Windsor Hub. 
'Safeguarding is all about caring for each other and keeping each other safe. I enjoy spending time with people of all ages and backgrounds and am passionate about human rights, equality and inclusion. I see safeguarding as essential to the mindset of Christianity and our faith in Jesus and will do my best to promote our church as a place of safety, where all can feel accepted and secure and become confident to find God and be themselves.'
.