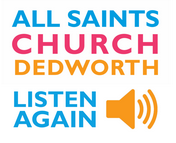 Sermon 15th Oct 2023 11am gathering
We have recorded our talk in case you missed it or want to listen again.
Here is the OOS together with our bible reading. Please do get in touch with us if you need prayer for anything at all.
SUNDAY 8th October 2023 11am Gathering
Pre gathering video: Cornerstone
Gathering worship:
Mt hope is in the Lord
In my wrestling (My Lighthouse)
Welcome, Notices and Prayer
Baptisms
(Kids to groups . . .)
Songs:
Strength will rise (Everlasting God)
Jesus Christ (Once Again)
Amazing Grace
Reading: Ephesians 1:15-23 (see below)
Reflection:
Ministry songs:
Who you say I am
Call to Baptism
Song: Shine Jesus Shine
Blessing
 
Ephesians 1:15-23
15 I have heard of your faith in the Lord Jesus and your love[a] towards all the saints, and for this reason 16 I do not cease to give thanks for you as I remember you in my prayers. 17 I pray that the God of our Lord Jesus Christ, the Father of glory, may give you a spirit of wisdom and revelation as you come to know him, 18 so that, with the eyes of your heart enlightened, you may know what is the hope to which he has called you, what are the riches of his glorious inheritance among the saints, 19 and what is the immeasurable greatness of his power for us who believe, according to the working of his great power. 20 God[b] put this power to work in Christ when he raised him from the dead and seated him at his right hand in the heavenly places, 21 far above all rule and authority and power and dominion, and above every name that is named, not only in this age but also in the age to come. 22 And he has put all things under his feet and has made him the head over all things for the church, 23 which is his body, the fullness of him who fills all in all.