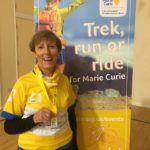 PCC Member, Baptism & Wedding Coordinator
Penny has worshiped in this church for 25 years and has won much respect for her closeness to God and ability to give guidance from her reflections with Him. She sometimes gives sermons and is part of the church services prayer team.
I'm part of the All Saints Church team and I'm responsible for keeping the registers up to date (for weddings, banns, baptism and confirmations) liaising with the church wardens and the PCC. I was born and grew up in Windsor although I now live in Englefield Green I so much enjoy the fellowship of my church family. Love to see you in church or our cafe any time soon!